Outdoor table
PICNO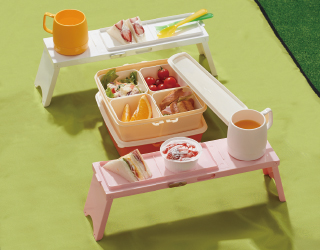 For picnics, sporting events, and more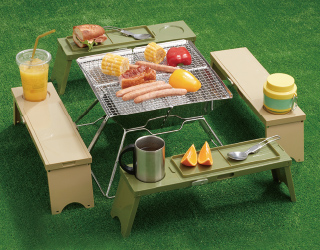 Perfect for a BBQ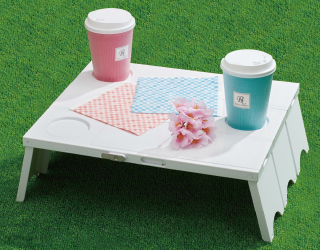 For cherry blossom viewing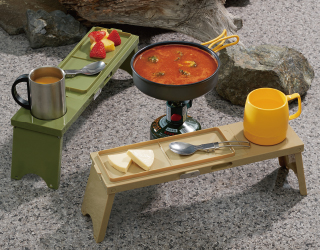 For trekking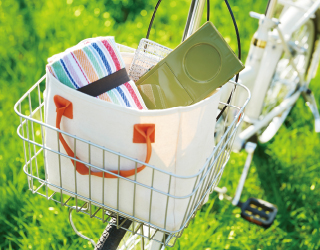 Folds up for easy carrying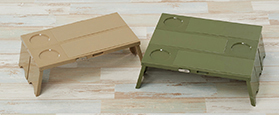 Two or three can be connected and used
as a larger table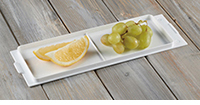 Turned over, and used as a square plate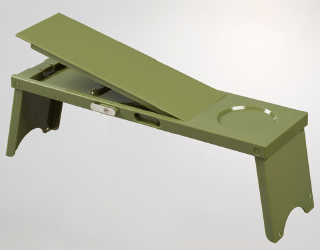 Part of the top panel is removable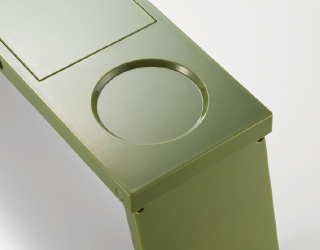 Cup holders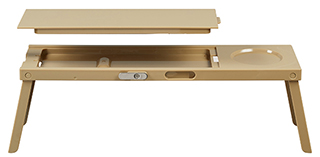 Part of the top panel can be removed
How to assemble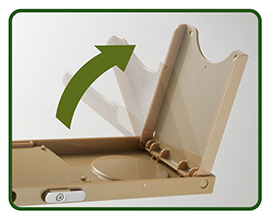 Turn the top panel face-down on a flat surface, lift the legs out from the tabs securing them, and open the legs outward.
How to connect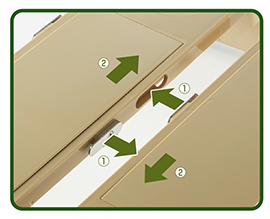 ①Place two PICNO trays side by side, and insert the connecting hook from one tray into the connecting slot of the other.
②Slide the PICNO trays in the direction indicated to secure them.
*Slide all the way in. And be sure to open all the legs when connecting trays.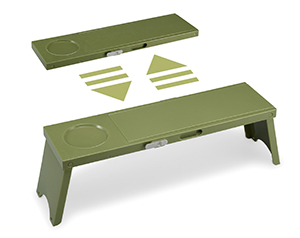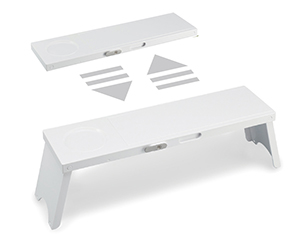 1 tray   2 tray   3 tray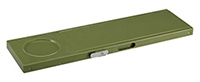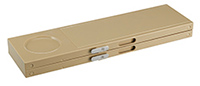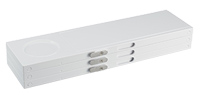 Outdoor table PICNO(1 tray)
Item Number
I-569-1
Product Size
With legs open:W120×D417×H130mm
With legs closed:W120×D390×H17mm
Quantity per Carton
30
Carton Size
315×255×440mm
12.5kg
Materials
Top panel, legs :ABS resin
Tray:AS resin
Connecting hook, screws :Stainless steel
J A N
Green 569104
Khaki  569111
White  569128

Outdoor table PICNO(2 tray)
Item Number
I-569-2

Product Size
With legs open:W120×D417×H130mm
With legs closed:W120×D390×H17mm
When 2 are connected:
W230×D417×H130mm
Quantity per Carton
15
Carton Size
380×205×440mm
12kg
Materials
Top panel, legs :ABS resin
Tray:AS resin
Connecting hook, screws :Stainless steel
J A N
Green 569203
Khaki  569210
White  569227

Outdoor table PICNO(3 tray)
Item Number
I-569-3
Product Size
With legs open:W120×D417×H130mm
With legs closed:W120×D390×H17mm
When 3 are connected:
W340×D417×H130mm
Quantity per Carton
10
Carton Size
288×260×440mm
11.5kg
Materials
Top panel, legs :ABS resin
Tray:AS resin
Connecting hook, screws :Stainless steel
J A N
Green 569302
Khaki  569319
White  569326